Our office and warehouse are located near the Minneapolis-St. Paul International Airport which means we are a short 15 minutes from both downtown Minneapolis and downtown St Paul.
The Map below shows that with 13 fully equipped trucks we can quickly be anywhere in the Twin Cities, from Anoka to Hastings and White Bear Lake to Prior Lake. In fact, 90% of the time, if you call in the morning, we can service your door that same afternoon.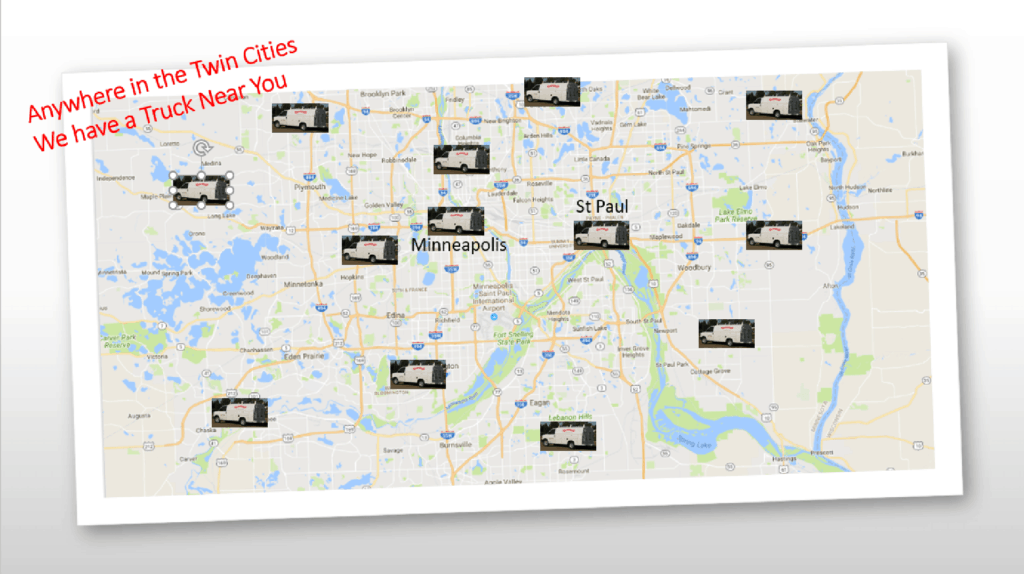 What We Do
The photos on this page are all new installations. But we offer full sales and service for all of our products. Garage door stuck? Bent track or panel, broken springs, frayed cables, operator not working, light sensors not sensing, remote or any other problems. Call us we will be right over. Usually the same day. Whatever is not right we can fix it.
You Can See Our Work Throughout the Twin Cities
Downtown Minneapolis and St Paul
Much of our work in the cities is installation and service of doors for parking ramps, condominiums, hotels, and of course stadiums.
High speed or high-performance doors are often installed in parking ramps to provide security and fast movement of vehicles. During a Twins, Saints, Loons, Vikings, or Timberwolves we all want to get into and out of the stadium as fast as we can.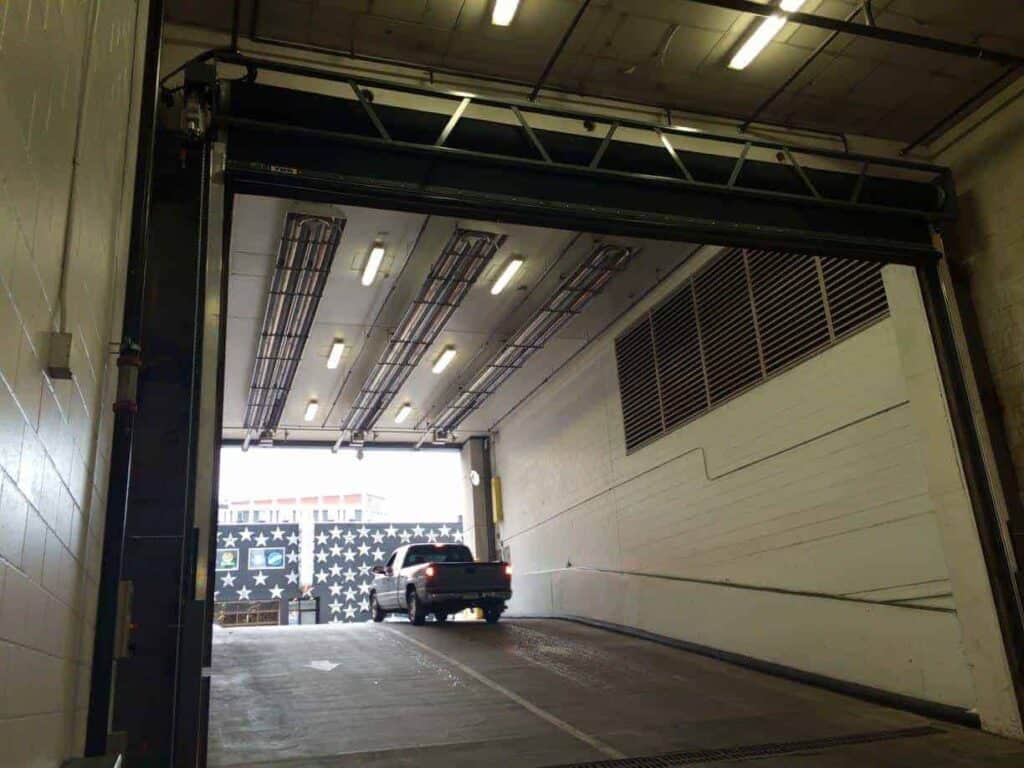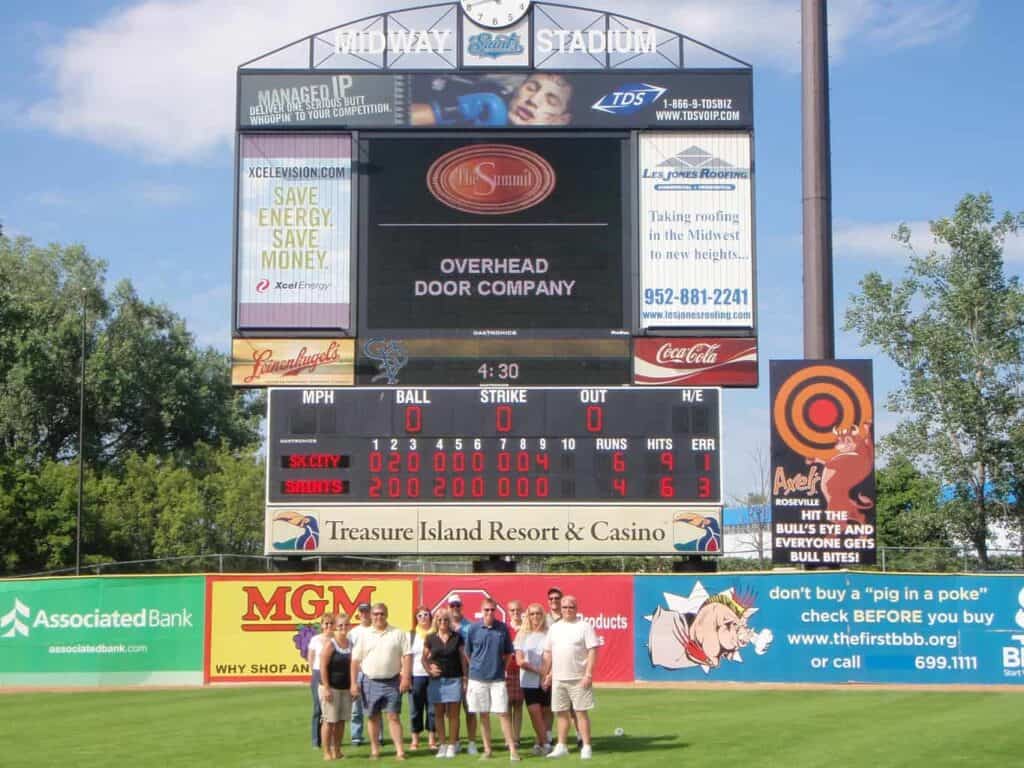 Here we are at Midway Stadium in St Paul for a Saints game with our name on the scoreboard
In the residential areas of Minneapolis, St Paul, and First ring suburbs of Robbinsdale, Richfield, and Columbia Heights, South St Paul, Como, Highland Park, we sometimes need to adjust to the conditions of the older buildings and garages. For example, low ceiling height can mean that we need to install a special low clearance track with little ceiling clearance.
Many garages are detached and, on the alley, so there is less need for the door to make a strong impression. They tend to have fewer windows and less need to perfectly match the style of the house.
Moving out to the next ring of Golden valley, Chrystal, Hopkins, Bloomington Brooklyn center in Minneapolis and Flacon Heights, Payne-Phalen, and the east side in St Paul, you start to see some mid-century modern garage doors and tuck-under garages. with vertically stacked windows. Nice!
Moving further out to the Western suburbs of Minnetonka, Plymouth, Eden Prairie, and the Eastern suburbs of Maplewood, Roseville, and Woodbury you see a real mix of styles from contemporary to classic.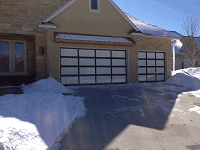 Aluminum and Glass Door in Minnetonka
Fire Stations, Police Stations & Hospitals Overhead Doors
Restaurants Around The Twin Cities
We service and repair any type and brand of commercial overhead door.
Call 651-683-0307 for fast expert service.
We maintain doors for planes, trains, firetrucks, and of course automobiles. We install and keep all your overhead and bifold doors working; from sectional to rolling, to high-performance doors, to fire doors, and even counter doors and grilles. We also service loading docks.
For your convenience, we offer three service and repair options for your commercial doors:
Option 1
Call Us When You Need Us
We usually respond within the same day during normal business hours, 93% of the time in fact.  Emergency service and repair is available 24/7 for our commercial customers.
Option 2
Guaranteed 2-hour Response Plan
When security is important and downtime is costly, or simply not an option, our guaranteed 2-hour response plan takes the worry and stress off your shoulders. Popular with airports, power plants, temperature controlled facilities.
Option 3
Preventative Maintenance Plan
We maintain your door according to a tailored plan based on your door style and door usage. Benefits include reduced service costs and downtime.
Call us at (651) 683-0307 to set up a free evaluation of your commercial doors. It's much less costly to take care of any service or repair needs before they become an emergency and interrupt the flow of your business.
Tested, Experienced Technicians
Our technicians work in high security and high-stress environments and have undergone Commercial Sectional Door Systems Technician certification through the Institute of Door Dealer Education and Accreditation (IDEA).  Their knowledge and experience make them some of the area's experts in commercial installation, service, and troubleshooting.
Each technician is:
  FBI security screened
  Drug tested
  DOT tested drivers and trucks
  Experienced and excels at what they do