We understand that security is a priority for your situation. Our security gates and grilles provide protection while maximize air circulation, light infiltration and visual access to interior spaces. These security grills and gates work great for retail stores, food service counters and much more. You'll get control over your space as well as a wide variety of styles and materials.
We meet your needs by offering:
Side-folding Grilles
Upward-coiling Grilles
Window Expanding Scissor Security Gates
Exterior Expanding Scissor Security Gates
NOT SURE WHERE TO START?
With so many options available, we realize it can be confusing to select the right security gate and grille. Save time, and let us do the work for you by giving us a call at (651) 683-0307. With a few simple questions, one of our experienced sales specialists will help pick the security gate and grille that best fits your environment.
On the other hand, if you know exactly what you are looking for, you can review specifications at Overhead Door's company website.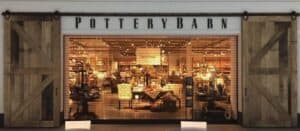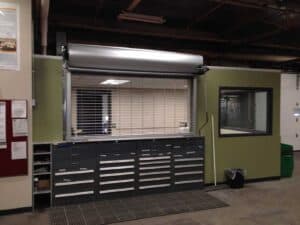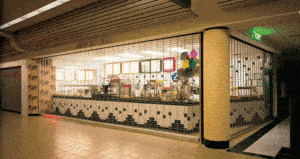 Security Gates & Grilles Features & Options
Panels fold to an average 2" (51 mm) per linear foot of curtain on standard-width models and an average 1 ½" (38 mm) per linear foot on wide-body models for superior compactness
 Choice of standard or wide-body panels (selected models) provides alternative stacking pocket depths to suit individual applications
 Minimum clear pocket widths of 8" (203 mm) on standard-width models. Minimum clear pocket widths of 13" (330 mm) on wide-body models require less depth
 Low-profile, top-mounted aluminum track requires only 1 5/8" (41 mm) headroom and 1 3/8" (35 mm) width
 Four stock curves (90°, 120°, 135° and 150°) with standard 14" (356 mm) radius for standard body and 22" (559 mm) radius for wide-body panels allow unique design capabilities to close odd-shaped openings or follow lease lines. Special curves and radii are available, creating limitless design possibilities
 Up to 2" (51 mm) of vertical adjustment allows for easy field correction and accommodates irregular or non-level surfaces
 Both manual and motorized operation
 Modular construction allows customization to fit any opening width
 Gates can remain virtually invisible while not in use