What is a High Speed Door?
High speed doors are fast, reliable, durable, secure, and versatile. Our nine models are designed to flex, keep the weather out, and control the environment inside.  These high-performance doors are engineered to allow maximum productivity with fast-acting curtains, high-cycle performance and resistance to damage from accidental collisions.
Anywhere there is a high traffic area that requires fast acting doors to allow traffic to quickly move into and out of the building.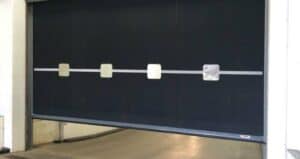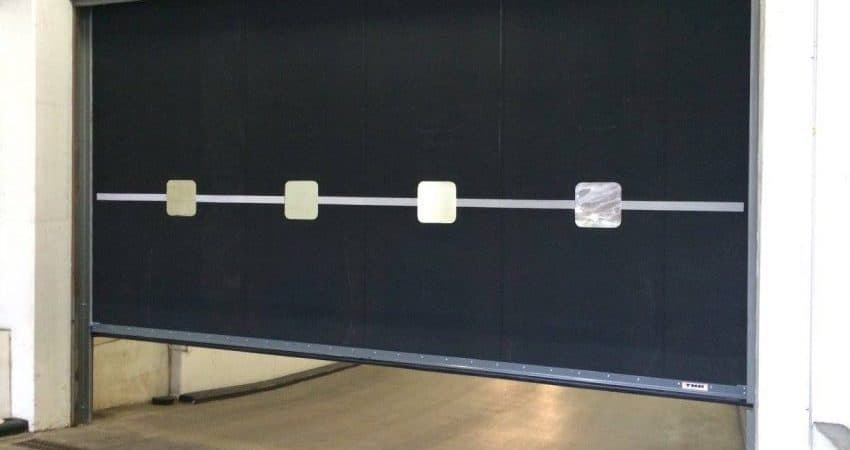 With 9 Models, 4 materials, and many options we can help you get the right functionality, look, and price for your building. Contact us and we will get you a picture that you can actually read!.

What are the Benefits of a High Speed Door?
Springless design
Fast Opening
Opens in 4 seconds or less (depending on model)
Interior and exterior models
Break away bottom
Designed to break away from the side guides
Simple reset and self-repair after a break-away event
Impact detection
Direct gear drive system
Less wear than chain and sprocket
Gearbox design with door stop safety
Safety features
Infrared sensors
Reversing bottom edge
Flexible bottom
Built-in door stop
Safety light curtain
Tight seals to control airflow and improve wind load
ASTM tested
Air infiltration
Wind load
Padlock controller fused disconnect.
Plugin ready wiring
What are the Best Uses for High Speed Doors?
With speeds up to 80 in/sec, high speed doors are ideally suited for areas with high traffic flow, security issues, or environmentally controlled areas. They are used for both exterior and interior openings including:
Where speed really matters
Where Traffic volume is high
Car dealerships
Office towers
Parking ramps
Where Security is important
High Rise Condominiums
Conveyors for material handling
High-security buildings
Where air exchange is a problem
Controlled environments
Heated parking
Clean rooms
Cold storage
Types of High-Performance Doors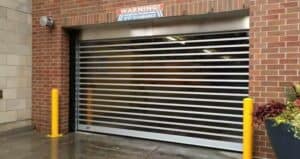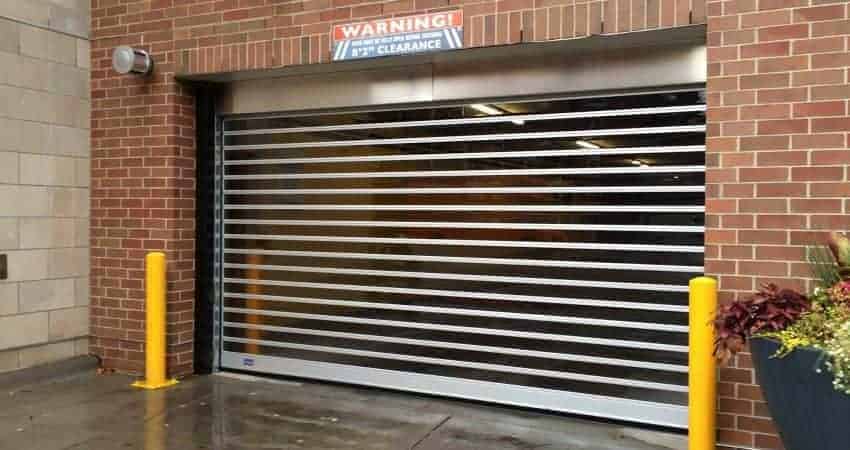 High Speed Metal Doors
Metal high speed doors are a good fit where building security is important. They come in steel and aluminum for durability. With their huge range of color options, they can also bring style to your facility that a fabric or rubber door can't provide. Because they are used in high traffic fast-moving areas, they are designed to minimize impact damage.
Best use of Steel & Aluminum High Speed Doors
Parking garages, Manufacturing, auto dealerships, retail stores
Benefits and applications
Opening speed of up to 80" per second.
Dual wall aluminum with optional polycarbonate panels
Solid doors for privacy or full-view doors for aesthetic appeal and visibility
Perforated slats are available to maintain security and privacy while allowing air circulation.
Up to 80"/sec
High wind resistance
Integrated light curtain.
Perforated slats optional for visibility and airflow
Close to 200 powder coat finishes
High speed Fabric Doors & Rubber doors
Fast acting Fabric and rubber doors are ideal for Manufacturing; Distribution; Food/ Beverage; Cold Storage; Pharmaceutical facilities.
For very large openings rubber doors come standard in widths and heights up to 30".
Increasing the speed and the cycle requirements of the door requires several engineering changes. The least expensive way is to make the door lighter by using rubber or fabric.   Ideal for separating controlled environment spaces such as food and beverage facilities, high traffic zones, storage rooms, freezer and cooler applications, and manufacturing areas to prevent cross-contamination.
Several safety features are available; a flexible bottom with wireless monitored reversing edge, a built-in drop stop device, and in-plane infrared sensors. ​​
Fabric and Rubber Door Features
Interior & Exterior models
Opening speed up to 80"/sec
Closing speed up to 40"/sec
Curtain locks on some models
Breakaway self-reset
Windows optional
Hinged guides for easy maintenance
5 year warranty
5 different colors
Wind load certified to ASTM E283
NOT SURE WHERE TO START?
In need of a high-speed door for your facility, but not sure exactly where to start?  Save time, and let us do the work for you by giving us a call at (651) 683-0307.
With a few simple questions, one of our experienced Sales specialists will be able to help you select the high performing door that best fits your environment. With 9 models and 4 materials: steel, aluminum, fabric, and rubber, along with many options, we probably have a door that fits your application and your budget.
High Speed Door Features & Options Highlights
Faster opening speed for increased productivity and maximum energy efficiency
 Direct drive motor in lieu of springs provides high cycles, reliability, and durability
 Soft start/stop
 Loop detectors
 Radio control
 Motion detectors
 Additional photo-electric sensors
 Horns
 Strobe lights
 Advanced diagnostics for fast and easy troubleshooting
 Options for high-efficiency performance to help reduce energy consumption
 Maximum performance and functionality with minimum maintenance requirements
 Windows
 Five-year limited warranty on motor
 Break away panels
 Easy maintenance and repair