With speeds up to 11ft/sec, high speed doors are ideally suited for areas with high traffic flow, security issues or environmentally controlled areas. They are used for both exterior and interior openings including:
Auto dealerships

Condominiums
Office towers
Emergency vehicle garage
Apartments
Auto service bays
Underground parking garages
Clean rooms
Conveyor doors
Controlled environment areas
Cold storage
Anywhere there is a high traffic area that requires fast acting doors to allow traffic to quickly move into and out of the building.

ADDITIONAL BENEFITS

Temperature and Dust Control
Doors that open and close quickly minimize the opportunity for energy loss and dust to blow in and around. High speed doors can significantly lower energy costs from heat loss in the winter and air conditioning in the summer. They are an obvious choice for cold storage areas or areas any area where temperature control is a concern.

Environmentally Controlled Areas
Access to specialized environments such as areas requiring NEMA 7 (dust) or NEMA 9 (vapor) motors and controls are good applications for high speed doors to minimize exposure and air exchange.

High Security Areas
High speed doors reduce the time available for unauthorized entry and increase the likelihood that someone will be seen if they try. For maximum security metal rather than fabric doors are available.
NOT SURE WHERE TO START?
In need of a high-speed door for your facility, but not sure exactly where to start?  Save time, and let us do the work for you by giving us a call at (651) 683-0307. With a few simple questions, one of our experienced Sales specialists will be able to help you select the high performing door that best fits your environment.
On the other hand, if you know exactly what you are looking for in a sectional door, you can review exact door specifications at Albany Door Systems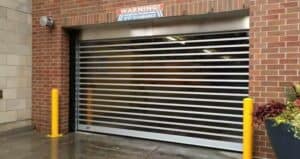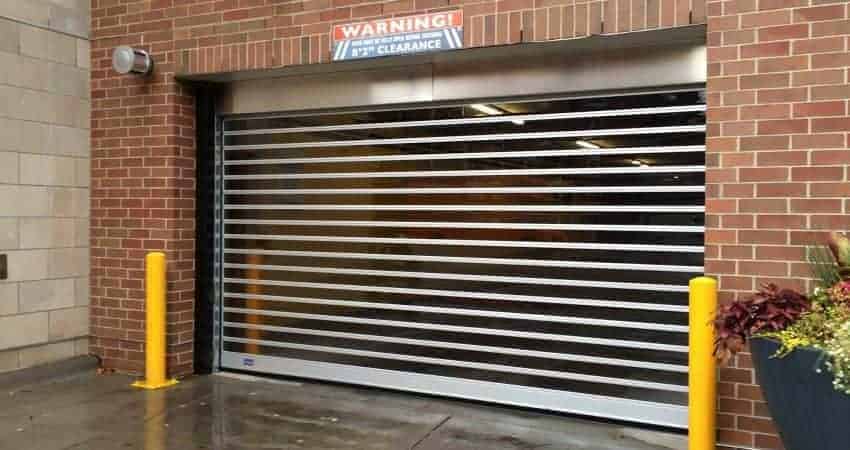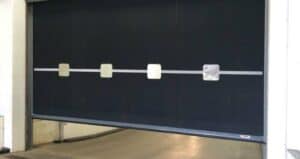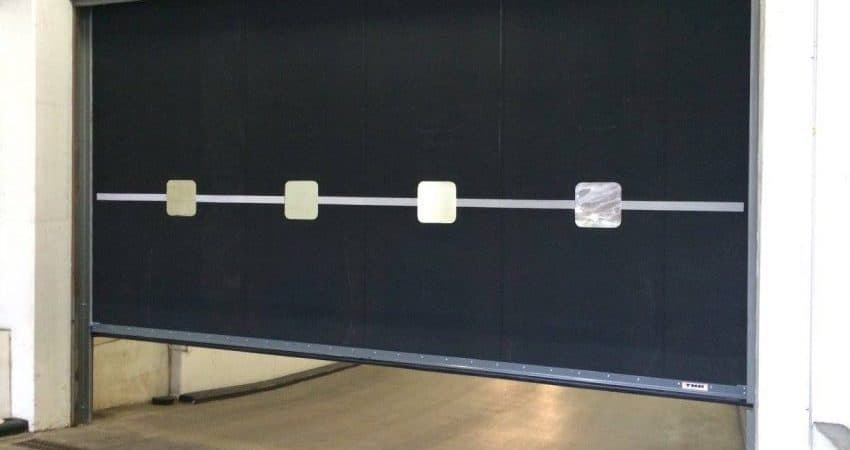 High Speed Door Features & Options
Faster opening speed for increased productivity and maximum energy efficiency
 Direct drive motor in lieu of springs provides high cycles, reliability, and durability
 Soft start/stop
 Loop detectors
 Radio control
 Motion detectors
 Additional photo-electric sensors
 Horns
 Strobe lights
 Advanced diagnostics for fast and easy troubleshooting
 Options for high-efficiency performance to help reduce energy consumption
 Maximum performance and functionality with minimum maintenance requirements
 Two-year or 300,000-cycle limited warranty coverage
 Five-year limited warranty on motor
 Break away panels
 Easy maintenance and repair