Garage Door Installation & Repair for Minneapolis & St Paul Metro Area
You have a wide variety of choices when picking our a new overhead garage door. There are choices in materials, construction, thermal efficiency, colors, styles, windows, and options. The good news is that we can help you get a great looking door that meets your needs and your budget.
Looking for Carriage House Doors? You'll find them in steel, wood and fiberglass doors. If you are looking for the most options start with steel doors.
Call us at 651-683-0307 for fast, expert service and repair.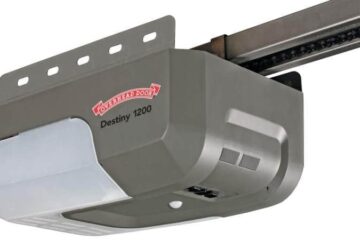 You have the door, don't forget the opener! Each of our openers features a variety of power levels and specifications to handle your different garage door weights and sizes.
READ MORE
Selection

Guide

Click Here to immediately get The Ultimate Garage Door Selection Guide.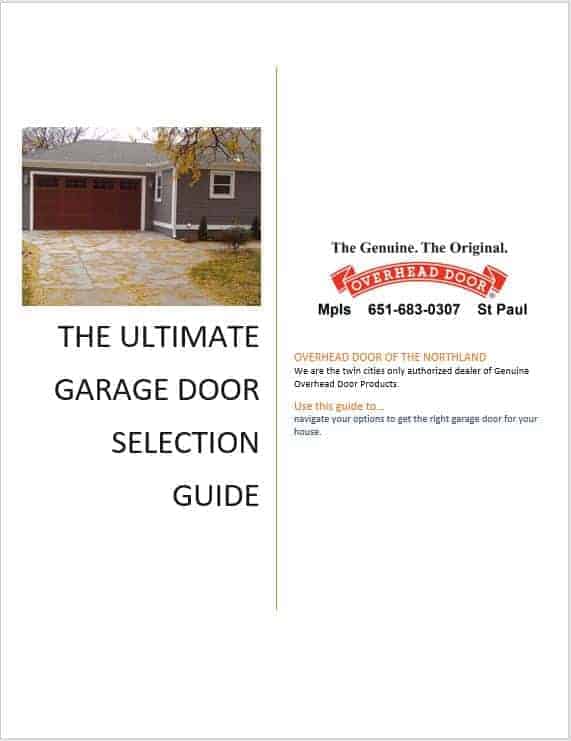 This 14-page guide will help you quickly discover your perfect garage door.
Overhead Garage Doors
In the last 10 years or so your garage door options have exploded. For many years your choices were limited to a few styles, colors, and options. Your material choices were steel or wood. Now, we offer 13 different design collections each with style options, window options, and hardware options. You really have well over 1,000 different configurations allowing you to get the perfect match for your budget and the look you want.
Don't let the number of choices scare you we are here to help with a number of on-line resources and of course as soon as you are ready, give us a call, we are glad to help you. With a few tips, we can help you quickly zero in on the perfect door for your home.
Steel Garage Doors
If you are just beginning your search, we recommend that you start by looking at steel doors.
Steel is the most popular material for residential garage doors. With recent innovations and expanded options, steel doors are available for the tightest budgets or they can make a dramatic statement on a custom home. From flat panels to carriage house doors, no windows, small windows, or large windows you have a lot of choices to get the look you want at the budget you need. Powder-coated paint on steel doors is long-lasting and low maintenance and to top it off, they are usually the lowest cost when compared to other materials. You can even get wood-look steel doors.
Wood Garage Doors
Who doesn't like the look of a classic wood door on a classic looking house? Of course, wood doors can be sealed with a clear coat, stained, or painted to match the trim on your house. They tend to have higher price points and require some maintenance to keep them looking their best.
Fiberglass Garage Doors
If you want a low maintenance door with the look of wood, consider a fiberglass door. These doors really look great. You need to get up close and looking at the door before you can see that it is fiberglass. And underneath the fiberglass is the same strength and insulating qualities of a steel door. This is a great option for Minnesota weather.
Aluminum and Glass Garage Doors
Relatively new for residential garages are aluminum frames with all glass panels creating a modern look. Again, there are several options for you to choose from. Different glass options allow you to select the level of privacy and light infiltration you want. Narrow or wide frames with various choices of colors give you more options to get the look that fits your house.
Garage Door Openers
Chain drive, screw drive, or belt drive which opener is right for you? Because winter is hard on a lot of things including door openers, we recommend sizing up your opener (the right size depends on the weight of your door. The cold makes every more difficult to move especially if your garage door is frozen to the floor.