Best Use for Rollup doors
Rolling, roll-up or coiling doors are the perfect solution when the space overhead and side room will not allow an overhead sectional door. They come in a wide variety of options to fit an equally wide variety of needs.
If you need full windows these doors will not work, but give us a call, we may have other options that will work.
Our coiling service doors are able to fit openings up to 1,500 square feet (139,355 mm).
Get the Best Value From the Twin Cities Best Rollup Door Supplier (At least that's how we think of ourselves)
Our selection of types, styles, materials, colors, performance packages, operators, and options allows you to configure the best door for your building and your budget. Our experienced technicians are fast and efficient with installations, maintenance, and repairs.
Types of Rollup Door systems
Rolling Service doors come in several styles with a lot of options designed to match your performance and esthetic needs and we have not forgotten about your budget.
Fire-rated doors for applications that must meet fire safety standards. Go here to see more about coiling fire doors.
Rolling shutters are an attractive light door solution that provides security for high pedestrian traffic areas such as retail stores, pharmacies, and hospitals.
Counter doors are versatile, good-looking solutions to secure a variety of industrial countertop applications. Go here to see more rolling counter doors.
Rolling sheet doors are attractive and solidly constructed sheet doors budget and allow for fast installation. Great for self-storage facilities.
Coiling Security grilles come in both side-folding and overhead coiling security grilles providing security and protection in retail, commercial and industrial applications. Go here to learn more about coiling security grills and grates.
High-Speed doors are typically rolling, or coiling doors specifically designed for high traffic, high security, and to minimize air infiltration. Because of their rigorous design requirements, they are in their own section. Our rubber and fabric doors are included in our high-performance section. Go here to learn more about high-speed, high-performance doors.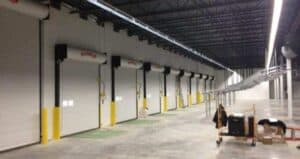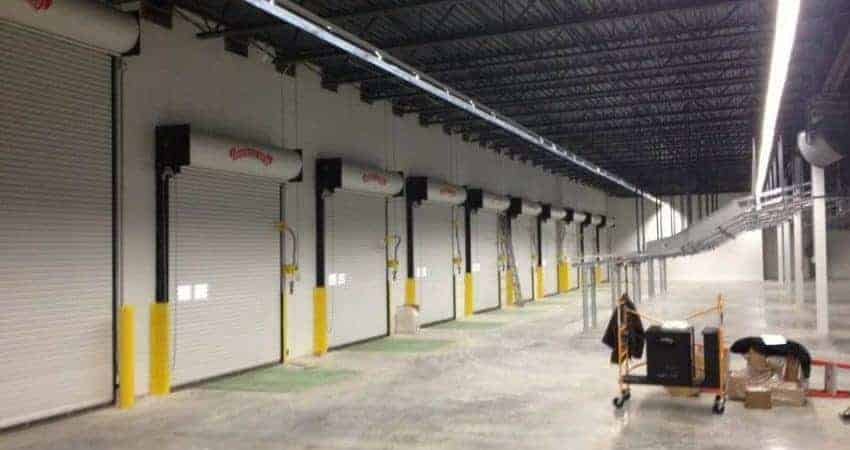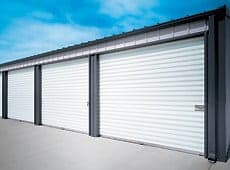 Because rolling doors are used for many types of applications we have separate pages with more information tailored to the applications below.
Typical Specifications for Rolling Doors
Roll up door sizes
Width up to 65 feet, standard
Height up to 30 feet standard
Max size 1500 sq ft
Roll up door performance
Wind load rated to 20psf
R value up to 10.9
Opening speeds up to 20 inches per second
2 styles of weather seal
Rolling door construction
Material Galvanized steel, Stainless steel, aluminum
7 different slat profiles
Standard finish is primed paint
Operation
Slide bolt locks
Motor, Chain hoist, or push up operation
Springless or direct drive
Typical Options for Rollup Doors
Appearance
Roll-formed galvanized steel, stainless steel or aluminum curtains in weights from 26 to 14 gauge (not all gauges available in all materials)
Curved or flat slats in a range of sizes and profiles, for heavy-duty applications and higher R values
Finishes include painted steel, clear or colored anodized aluminum

Over 200 colors or you can color-match to your requirement
Performance
High cycle designs and packages
Light duty, medium-duty, and heavy-duty packages
Air infiltration compliance with IECC
Ventilated/fenestration slats for air circulation and limited visibility
Function
Pedestrian pass thru door
Various levels of Insulation and Weather stripping
Sloping bottom bar option for sloping floors
Exhaust ports for vehicle exhaust
Not all options are available on all rollup door models
Why Choose a Springless Service Door?
A springless garage door is like a Tesla car where motors are directly driving the wheels. There is no driveshaft to break or decrease efficiency.
A springless drive for a rollup door eliminates the counterbalancing spring that needs to be matched and then tweaked to the door and the operator.
Why should you care?
Because springless service doors provide 25 times the standard service door cycle life with a cycle life of 500,000!
We have 3 different models of springless rolling service operators for high cycle performance, improved security, and durability.
Special Application Rollup Doors
Do you need a rolling door a bit out of the ordinary? Maybe you need a large, oversized door for cranes railroad cars, or planes? Or maybe you need a door for heavy traffic, or maybe you need a large door that lets in light allows air to circulate and lets pedestrians come and go? Well, we have them.
Oversized Coiling doors
Large doors up to 1,500 square feet, for aircraft hangars or rail loading sheds or any building holding large equipment.
Pedestrian pass doors
When people use the same entry as large equipment a pass-through door allows pedestrian traffic without raising the rolling door.
High-usage doors
High cycle packages are available with several models in doors with counterbalancing springs and springless designs.
Light duty lower cost rolling doors
For applications with low usage, we have several different styles. Great for self-storage facilities, counter doors, and retail applications.
Vision, light infiltration, airflow
Ventilated doors with perforated or fenestrated slats restrict unauthorized entry while allowing visual access and air circulation.
High wind load doors
Doors designed for wind loading higher than our standard 20 psf capacity.
Combination doors
Custom designed combination doors for nontypical situations and applications. For example, grille-mounted on a rolling steel door provides the benefits of both: security and airflow. Or a door made with two or more slat styles meets a different set of unusual requirements.
Spark-resistant doors
Spark-resistant doors and explosion-proof electric operators can be used in volatile environments such as grain elevators, chemical plants, and paint spray booths.
Rollup Door Costs
Because of the wide variety of types and options, Roll-up Door Costs vary greatly. As you can imagine the price difference between a shelf storage door and a fire door will be significantly different. Call us at any point in your process and our sales team will work to get you a cost estimate.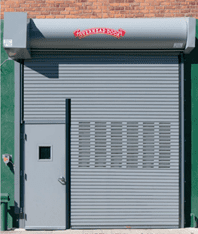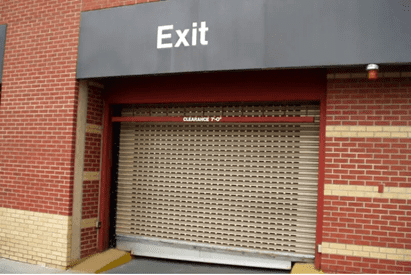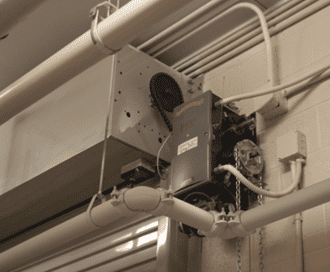 NOT SURE WHERE TO START?
Selecting the right door style, not to mention choosing from the wide selection of colors, and profiles can take time.
Save time, and let us do the work for you by giving us a call at (651) 683-0307. With a few simple questions, one of our experienced Sales specialists will be able to pick the rolling door that best fits your environment.
On the other hand, if you know exactly what you are looking for in a rolling or coiling door, you can review specific  door specifications at Overhead Door Company's website.
Door Features & Options
 Light to heavy duty construction
 R value up to 7.7, non-insulated doors also available
Galvanized steel, stainless steel and aluminum doors in a variety of gauges, slat profiles, finishes and options
Available in almost any size. Standard door widths up to 30' and 28' in height, and custom door sizes up to 1500 sq. ft
 Curved or flat slats in a range of sizes and profiles, including the C-600, a 6" (152 mm), 1 3/8" (35 mm) curved slat for heavy-duty applications
Finishes include primed and painted steel, optional powder-coated paint in 197 standard colors, or color matched to specification, as well as clear or colored anodized aluminum
Slats can be replaced when damaged
 Medium and high cycle springs
Face of wall mounting is standard with between-jambs mounting available for medium- and heavy-duty doors
 Ventilated slats with perforations or fenestration extend applications to open-air environments
 Push-up, chain-hoist, crank or motor operation available
 Pedestrian pass doors