Overhead Door can also help provide access control and install temporary gates for you and your business. Our customers have a variety of needs, but here are a few common reasons for access control and temporary gates: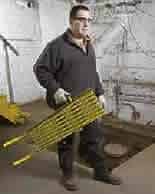 Maintenance projects

Cleaning procedures

Retail stock inventory operations

Crowd control
To meet the needs above and any others you may have, we provide a few options:
Portable Access – Gives you more freedom and the ability to make adjustments quickly
Free Standing Access – Easy to install and easy to move
Security Gates – The most secure option that will give you peace of mind
NOT SURE WHERE TO START?

With different choices available, we realize it can be confusing to select the right access control solution for your needs. Save time, and let us do the work for you by giving us a call at (651) 683-0307. With a few simple questions, one of our experienced sales specialists will be able to pick the access control resolution that is best for you.