It's hard to argue with those who love the look of wood garage doors. A wood overhead garage door matched to a wood front door is stunning. And even though steel doors are popular, wood is still the standard by which all doors are measured.
Our premium doors are luxuriously built with expert Amish craftsmanship to reflect rich details while providing durability. From traditional to modern, we offer a variety of styles, options, and price points. Give your home a curb appealing garage door at a budget-friendly price and is built to last.
The Benefits of a Wood Door:
It can be painted or stained to match the details of your home
It's natural looking and feeling. It has a pleasing texture that can't be copied.
It looks like wood from a distance and it looks like wood on close inspection—it actually is wood.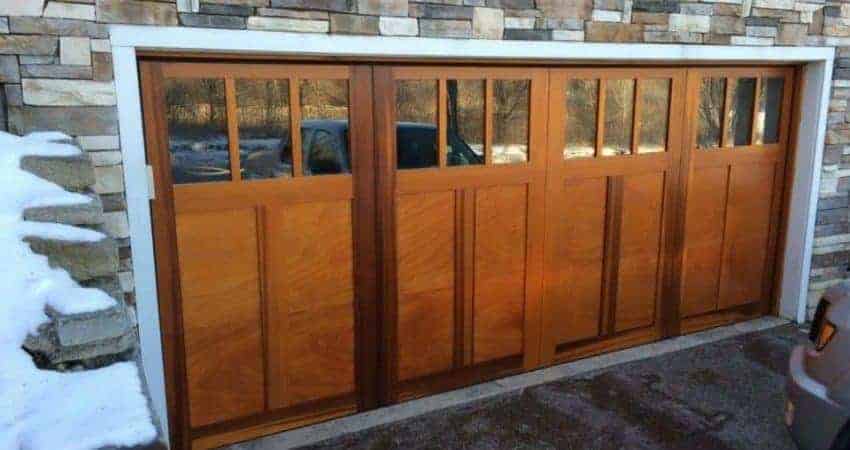 Choosing the Right Wood Garage Door For Your Home
While wood doors don't have as many options as steel doors, there are still plenty of options for you to choose from. Let us help you find a beautiful door, at a price within your budget. We want to help with 3 different resources.
Get our Ultimate Garage Door Selection Guide. This guide will walk you through all the possibilities for your new door.
Go here to use our Door View app to see different doors placed on your house. It's fast and easy.
Call us at 651-683-0307. Let one of our residential specialists streamline the process for you.
Some of Your Considerations Include:
Panel Type
The wood garage doors in the Traditional Wood Collection are available in either rail-and-stile or flush designs. These wood garage doors complement many architectural styles, from traditional to modern and add timeless elegance and dramatic curb appeal to the home.
Flush Garage Door Panels
The Traditional Wood Collection Flush Panel wood garage doors offer smooth full panel designs to complement the architecture of many styles of homes. Options include paint-grade smooth plywood exterior and interior or receive them primed. These doors come natural and unfinished; however, you can select an option to receive primed. Homeowners can further customize with the addition of window trim designs.
Flush panel wood garage doors offer modern simplicity. The smoothness of the flush panel design suits a variety of architectural styles, from traditional to modern. For a contemporary or minimalist look, the flush panel garage doors are an ideal fit.
Some of Your Panels Options:

Rail & Stile Garage Door Panels​​
The Traditional Wood Collection of Rail & Stile doors feature framed panel designs for those homeowners looking to add the natural and timeless look of a wood overhead garage door. For a budget-friendly price, they can be constructed of smooth hardboard panels with thin rails & stiles overlaid.
Rail and stile wood garage doors deliver a timeless design. The traditional look of rail and stile wood doors adds richness, depth, and lasting design. Available in both framed and raised panel designs; homeowners can choose a style that best complements the architectural design of their homes' façade. ​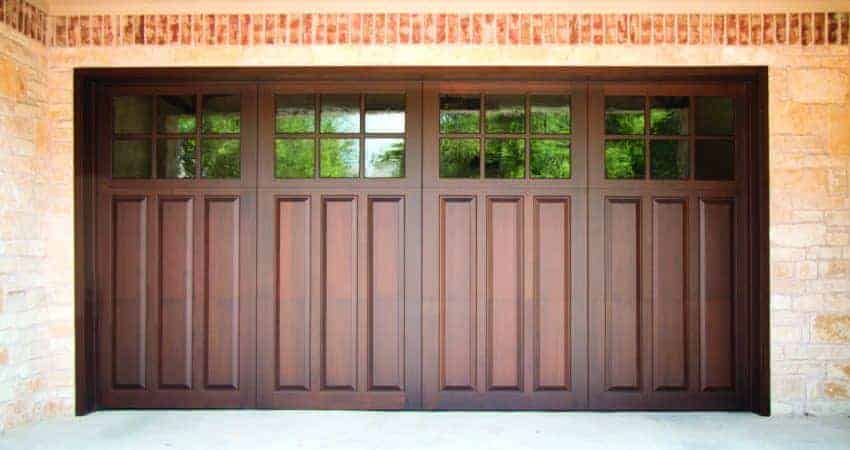 Carriage Garage Doors
​​​​​​​​​​​​​​​​​​​​​​​​​​​​​​​​​​Carriage garage doors combine the classic swing-open appearance and detailing of carriage house wood doors with the convenience of overhead sectional garage doors—you know, so you don't have to get out of the car to swing them open. Amish craftsmanship creates a door that reflects handmade artistry and is built to last.
These doors can have the simple sophistication or the elegant flair of old-world estates
Some of your design options:



Customize with Colors, Types of Wood & Window Trim
Wood garage doors can be painted or stained to match or highlight the style of your home. A variety of window trims are also available to provide a customized look.
Some wood choices:

Price
Prices for wood doors vary by style and choice of wood. Generally, they are more expensive than a steel door.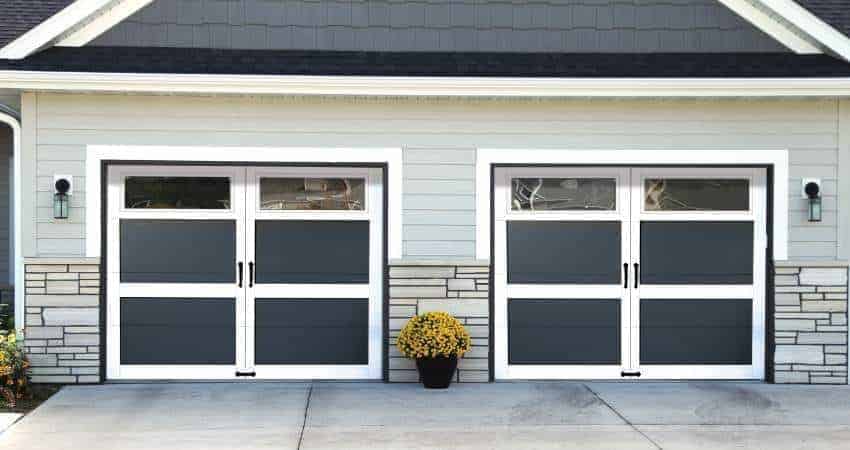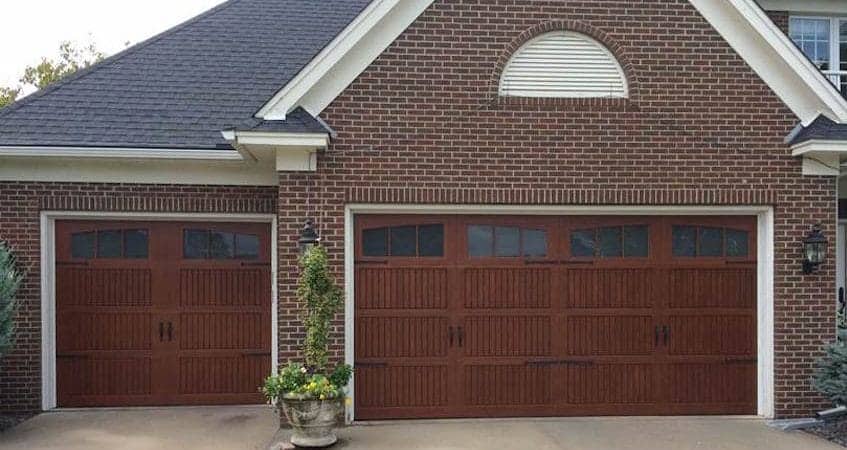 Confused by all the options available? Check out our door selection guide to get a feel for what you want, then give us a call and one of our specialists will be happy to help you.
I Love the Look of Wood But...
If you like the look of wood but are concerned about maintenance, consider our steel or fiberglass doors that are made to look like wood but provide elegant durability while enhancing the aesthetics of your home.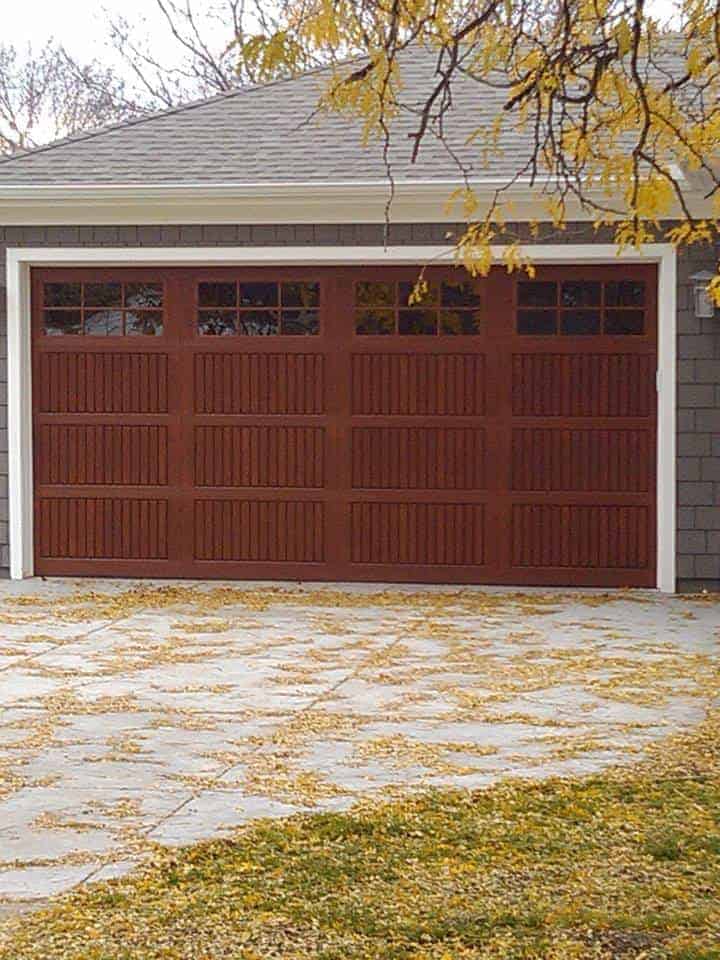 Is This Really A Fiberglass Door?
Other Popular Choices Include: