Are you fixing up your house for the spring home-selling season? Or are you simply looking for affordable ways to add value and curb appeal to your home?
Any homeowner knows there are a million ways to spend money on a house. It can be hard to know where to start. A new roof, new windows, new flooring, or a kitchen remodel—the list goes on. While these are all good ways to improve your home, there is another way to make a large impact with a minimal investment. Begin by replacing your old garage doors.
First Impressions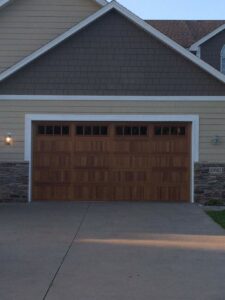 A garage door is one of the first things prospective buyers and guests see when they pull into the driveway. A deteriorating or outdated door immediately gives the impression of a poorly-kept house, while a high-quality, attractive garage door reflects a well-maintained home.

Curb appeal is important, especially if you're trying to sell your home. Most realtors will recommend a garage door replacement before listing a house, particularly if the old doors show signs of age. This helps the property sell more quickly—which translates into real overall cost savings for the homeowner.
"For many house styles, the garage door is a home's largest exterior feature, so this is a fantastic area for a facelift," says Greg Smelser, Sales Manager at Overhead Door of the Northland. "By upgrading outdated doors with new ones that complement the rest of the home, you can dramatically improve a home's curb appeal at a very affordable cost."
Garage Door ROI
Homeowners can expect up to an 85 percent return on investment for garage door replacements according to the 2017 Cost vs. Value Report produced by Remodeling magazine. This exhaustive annual study compares the average cost for 29 popular remodeling projects with the value those projects retain at resale. Garage door replacements consistently rank in the report's top five returns on investment for home improvements, offering homeowners an easy and cost-effective way to add value to a home.
Whether you're preparing to sell this spring or are simply looking to increase overall home value, let Overhead Door of the Northland help you get the most out of your investment. Contact us, your trusted Twin Cities residential and commercial garage door experts, today for a free consultation.